Annual Physician Practice Survey: 2017
What Physicians Want in a Practice, Employer, Compensation, Community and More
The Medicus Firm's annual physician practice survey reveals insights into physicians' career goals, concerns, and attitudes about industry trends impacting their practice on a daily basis.
Find out how physicians feel about their jobs, their pay, their employers, and more. What attracts them most in a practice? What makes them want to find a new job? How do physicians find new practice opportunities?
Where do physicians want to work and live, and why?
The Medicus Firm's physician survey of thousands of doctors has been conducted annually for over a decade, and has been cited in media and healthcare industry outlets nationwide, including Modern Healthcare's annual physician compensation edition.
Request your complimentary copy of The Medicus Firm's 2017 Physician Practice Preference & Compensation Survey today.
Latest Physician Survey Highlights:
Top Practice Concerns: Money, Balance, Burn-out
When asked to select their top two concerns about their practice and careers for 2013, the most common responses were:
Compensation / Reimbursements

53%
Work-related Burn-out and Stress

20.8%
Impact of Health Reform

17.6%
Lack of autonomy or control in my practice

11.7%
Only 8.3 percent of respondents indicated that one of their top concerns is "finding a new practice opportunity," and "physician recruiting" came in dead last at 1.4% selecting it as a primary concern in 2013.
"While hospital employers can't change their location, the weather, or the town population or amenities, they can offer other creative perks and solutions tailored to the physician's lifestyle, like flexible schedules, and a pleasant work environment where physicians are included in administrative decisions and allowed some of the managerial influence they had when they owned private practices," said Jim Stone, president of The Medicus Firm.
Affordable Care Act
Approval ratings of the Affordable Care Act declined for the first time in several years, and the decline was fairly substantial. Only 71.6% of respondents gave the ACA a passing grade, compared to 83% last year.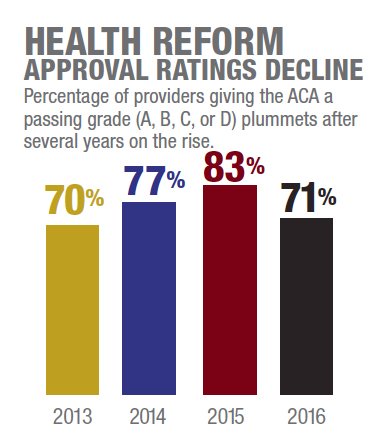 Increase in Income
Approximately 29.6% of physicians project an increase in their 2016 income, over what they earned in 2015. This is a less optimistic response than last year's, 39% of physicians projected an increase in their 2015 income, over 2014.