National Doctors' Day - 5 Things to Know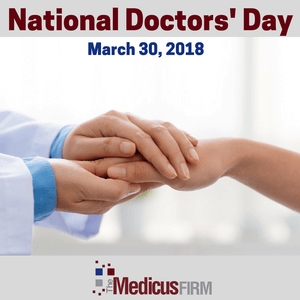 History of Doctors' Day - March 30
Each year, National Doctors' Day occurs on March 30 to recognize and honor physicians in the United States. How and why was Doctors' Day founded? Here are a few facts to know about Doctors' Day and its history:
1. The concept of Doctors' Day was the brainchild of Ms. Eudora Brown Almond, a physician's wife in Winder, Georgia.
2. She chose the date of March 30th because this date also coincides with the first medical use of ether for anesthesia during surgery, which occurred on that date in 1842. (Dr. Crawford W. Long is credited with that invention.)
3. The very first Doctors Day was in 1933, and consisted of a local gathering of physicians' wives and a luncheon for physicians in that small northeast Georgia town.
4. Doctors Day officially became National Doctors Day in 1990, when President Bush signed a bill into law recognizing the holiday on a national level.
5. Doctors Day is also celebrated annually in other countries around the globe, however not necessarily on the same date.
Today, there are more than one million physicians in the United States. However, not all of them are actively practicing currently.
Although there is no way to adequately thank doctors for everything they do, the care they give to their patients, and the hours they sacrifice for their medical careers, many hospitals and healthcare employers try to recognize their physicians with a luncheon or some other gesture or token of appreciation on March 30th. Be sure to wish your physician friends and colleagues a very happy Doctors' Day on March 30.
"Wherever the art of medicine is loved, there is also a love of humanity." --Hippocrates