Placement Rate of Advanced Practice Clinicians Doubles for 2016 Year-to-date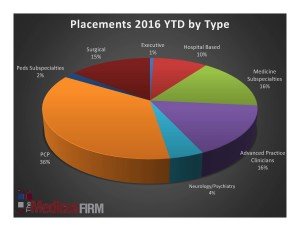 Mid-year Review of National Healthcare Placement Activity Reveals Hiring Trends for First Half of 2016 The proportion of advanced practice placements is on track to double that of 2015, based on hiring activity among clients of The Medicus Firm, in the first half of 2016. In 2015, advanced practice comprised a little more than eight percent of all placements. That proportion has doubled to an unprecedented 16 percent for the first half of 2016 (January through June). The percentage of non-physician placements has grown steadily since 2012, when advanced practice placements comprised about 1.3 percent of all placements. Based on an analysis of hundreds of placements made nationwide so far in 2016, physician assistants were the second-most frequently placed providers, behind Family Medicine physicians. Additionally, nurse practitioners broke into the top ten, in ninth place. Rounding out the top five most frequently placed providers were hospitalists in third place, cardiologists in fourth place, and OB/Gyns were the fifth most frequently placed provider. When categorizing placements by type, placements of primary care physicians are on pace with last year, comprising 36 percent of placements made year-to-date. Primary care placements include family medicine, internal medicine, and pediatricians.
Placements by Type, Nationwide, clients of The Medicus Firm Jan.-June 2016[/caption] Another trend is the growth of placements in mid-sized communities, which grew from 31 percent in 2015 to more than 45 percent in 2016 thus far, surpassing placements made in urban and rural communities. In keeping with the trend towards hospital employment, 99 percent of placements were employed opportunities, vs. one percent which were private practice. By the Numbers: Placements of Advanced Practice Clinicians 2016 YTD Among the non-physician placements made in the first half of 2016, PAs made up 58% of advanced practice clinicians placed, and 42% were NPs. Average NP Salary: $113,000 Average PA Salary: $118,500 Average Signing Bonus: $15,000 Signing bonuses for advanced practice clinicians ranged from $5,000 - $20,000, averaging $15,000 overall. The average relocation package for advanced practice clinicians was $6,500.