Recruiting and Retention Strategies During a Physician Shortage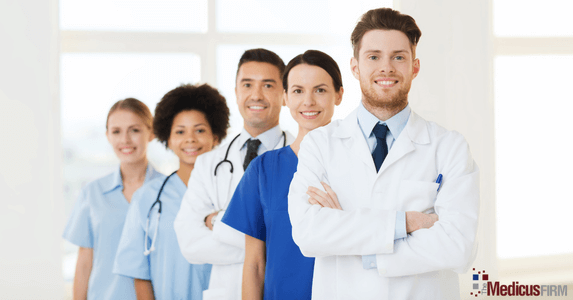 Do you view physician recruitment as an EVENT, or as a PROCESS?
Health systems that typically enjoy the greatest success in physician recruitment view recruiting and retention as an ongoing, continual process, not as an event with a beginning and an end, according to Bob Collins, managing partner of The Medicus Firm.
Collins adds that administrators who approach recruiting as an opportunity, and not as a requirement, are the healthcare leaders who often achieve the most success in physician recruitment and retention.
What are some of the most pressing trends and issues facing hospital administrators today, in relation to physician recruitment? How can hospital administrators anticipate future challenges and demands, to "skate where the puck will be"?
Collins recently spoke with Dr. Britt Berrett and Jimmie Markham from The Business of Healthcare Podcast, regarding some of the issues facing physician employers and health systems today. Below are some of the most pressing current trends impacting physician recruitment, according to their discussion.
Shift from private practice to hospital-employed physicans:
How does this impact the financial performance of the hospital?
How has this impacted physician incomes?
How has this impacted the physician mindset? (Hint: They are MUCH more mobile now and less loyal, overall.) And this is why retention efforts are more crucial than ever before, as well as building and maintaining a positive workplace culture.
Increased demand for Primary Care physicians:
Impact on PCP physician salaries (They've gone up, but how high can they go?)
Impact on demand for advanced practice clinicians. (This has increased as well, and now there are additional qualifications and specifications sought.)
Rural health recruitment - Unique challenges
Health systems in rural areas often face particularly pronounced challenges in physician recruitment, which is why it's especially important to position the search for success from the very start.
What are some of the most popular incentives to help attract physicians to rural locations? (If you guessed money, you're close!) With medical school debt at an all time high, any incentives that can help reduce physicians' school loan debt is helpful in persuading physicians. Collins discusses the impact of school debt and related incentives on physician recruitment.
Millennial Mindset
The mindset of millennial physicians (in general) combined with the trend of physician employment over private practice, has created a physician workforce that is more mobile, and less loyal than ever. How can health systems appeal to millennial physicians and offer a setting that is appealing to them for the long-term? Work-life balance is paramount, for starters. Listen to learn more.
Unprecedented Demand
Along with the implementation of health reform, an aging, growing patient population, combined with an aging physician population is creating a perfect storm of a physician shortage. Within the decade, one-third of the physician workforce will be over 65!
There is no one single "magic bullet" or "easy button" for physician recruitment, Collins concedes. Naturally, the recruiting challenges faced by a healthcare administrator of a system in San Francisco, or some other major metro area, are very different from those faced in the rural South or Midwestern regions. This is where a tenured, knowledgeable, and regionally experienced recruiting consultant can add value in partnering with healthcare administrators and inhouse physician recruiters. "We aim to bring real, customized, and executable solutions to the table, for each system's unique needs," Collins concluded.
To hear more about any of the above challenges and potential solutions and approaches, listen to the complete podcast episode, or contact the consultant in your area for specific recruiting and workforce information related to your location.
More: