Report Supports the Return of Elective Procedures is Key for Healthcare Job Market Growth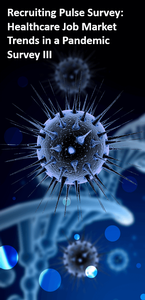 Forty-four percent of healthcare facilities report 81-100% of their elective procedures have returned which is up from 13%, according to a recent survey report. The healthcare job market is showing some signs of return with new job openings, increased locum tenens usage, and less movement in new hire start dates. The survey is the third in a series conducted by The Medicus Firm to learn how healthcare employers are adjusting to recruiting healthcare providers in a job market impacted by Coronavirus.
Other healthcare employer insights from the surveys are:
19% of employers added more open jobs over the last 30 days
10% started using or increased usage of locum tenens (temporary coverage)
4% of providers have backed out of offers which is the highest level reported
11% of new hire start dates moved out compared to a high of 20% at the onset of the pandemic
There has been no change in relocation plans for over half (52%) of newly hired providers and this up 6 points from the most recent period. While start dates have seemed to stabilize with a 6-point decrease of dates moving out, providers appear a little more concerned about making a move during this time with double (4%) the instances of providers backing out of offers. This might be from providers holding off on committing to new positions, receiving a better offer from another opportunity, or maybe their current employers made counteroffers to keep them on staff.
This report covers a series of three surveys over approximately a 90-day period to capture responses on how healthcare employers are adjusting to recruiting and staffing providers in a job market impacted by Coronavirus. Each survey was sent to 13,000+ nationwide contacts in The Medicus Firm's proprietary database. A total of 572 responses were received with 54% being hospitals/health systems and 46% being medical groups. Survey I was open from April 21st to April 27th, 2020, with a total of 238 responses. Survey II was deployed from May 28th to June 4th with a total of 211 responses. Survey III collected 123 responses from July 16th to July 26th.
For a copy of the report click here: Recruiting Pulse Survey: Healthcare Job Market Trends in Pandemic Survey III