Survey Finds Healthcare Employers Resume Hiring Physicians While in the Pandemic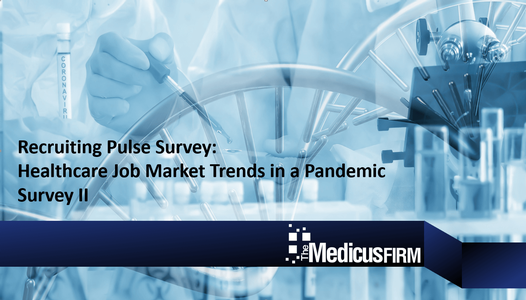 Forty-three percent of employers are recruiting or have increased recruiting activities and 59% indicate no change in the number of open positions, according to a recent survey. An increase in recruiting activity, along with fewer position closures suggests the healthcare job market is leveling off. The survey was conducted by The Medicus Firm to learn how healthcare employers are adjusting to recruiting healthcare providers in a job market impacted by Coronavirus.
Other healthcare employer insights from the surveys are:
33% are conducting onsite interviews vs. 11% in the prior survey
10% jump with 43% of employers stating they have not stopped or already increased recruiting activities
59% of employers indicate 'no change' in the number of open positions over the last 30 days
22% decrease in locum tenens utilization for each of the two survey periods
56% of employers that perform elective procedures have had at least half or more of their volumes return
Hospitalists positions were the most prevalent decline in demand
The is a sharp decline of 19% of employers willing to extend an offer to a physician without an onsite interview. "While virtual interviews were embraced early, many healthcare employers are reluctant to make offers without an onsite visit, "states Steve Look, CEO of The Medicus Firm.
The job market starts to reverse the downward move with 8% of employers stating they have opened new positions and begin to re-open as almost 43% of employers are recruiting or have increased recruiting activities. "Physician needs increase as patient volumes ramp up rapidly for some healthcare organizations," adds Look. Healthcare organizations indicated they have less need for Hospitalists, followed by advanced practice clinicians. Since COVID-19, the greatest demands continue to be Primary Care, Neurology, and Critical Care/Pulmonary positions.
Also reported was non-utilization of locum tenens is steadily on the rise with 75% of employers still not using locum tenens providers, a slight increase (4%) from the previous survey.
For a copy of the report click: Recruiting Pulse Survey II: Healthcare Job Market Trends in a Pandemic