The Medicus Firm Achieves Best of Staffing for 2017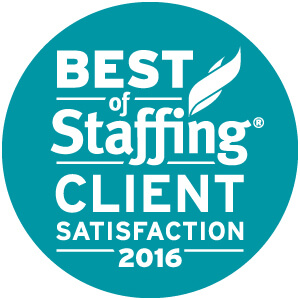 The Medicus Firm achieved Best of Staffing designation again in 2016. The Best of Staffing award, powered by Inavero, is bestowed to the recruiting firms with the highest client satisfaction ratings, as determined by NetPromoter scoring system. This recognition program was established seven years ago, and this is the fourth official win for The Medicus Firm out of six years participating.
According to the official Best of Staffing website, "The Medicus Firm earned the Best of Staffing® Award for providing remarkable service quality. Fewer than 2 percent of all staffing agencies in the U.S. and Canada earned the 2016 Best of Staffing Award for service excellence. Best of Staffing winners truly stand out for exceeding expectations, and this award identifies the staffing industry's elite leaders in service quality." "We are honored and excited to be recognized for all of our associates' hard work and efforts to meet our clients' recruiting needs," states Jim Stone, president of The Medicus Firm. "We thrive on producing results to keep our clients satisfied with our staffing services, and are pleased to be included on the Best of Staffing list again this year." The Medicus Firm also achieved the Best of Staffing designation in 2011, 2013, and 2014. "The tenure and tenacity of our recruitment team, as well as the passion and commitment to our clients' physician recruiting objectives, have enabled us to achieve this important recognition," Stone concludes. For more information about the scoring system, or to read client reviews and ratings of The Medicus Firm, visit the Best of Staffing website.