The Medicus Firm Bestows Annual Holiday Charity Gift to Komen Foundation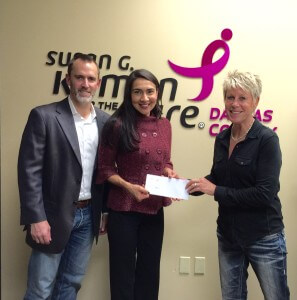 Honored Executive Shares Her Story of Survival On behalf of its clients nationwide, The Medicus Firm gifted its annual holiday donation to The Susan G. Komen foundation for breast cancer research and community outreach. "In recent years, we started a new holiday tradition that we hope will make an impact in the community and beyond. Instead of buying gifts for our clients, which could not possibly begin to express our gratitude to all of our business associates, we donate money to a charity on behalf of them," states Jim Stone, president of The Medicus Firm. He adds that the firm's employees typically vote on the cause they feel has the most impact and relevance to the values of the firm and of their clients. "For the 2015 holiday donation, we selected the Komen foundation, because breast cancer has impacted so many of our associates, clients, and candidates, both directly, and indirectly," Stone stated. "By giving money to a charity, rather than buying gift baskets or miscellaneous items, we can hopefully help make a significant, positive difference in people's lives, on behalf of our clients." Lisa Wagner, regional vice president at The Medicus Firm, adds that "giving to charity mirrors our core values at The Medicus Firm. The feedback we've received over the years from clients and candidates has been overwhelmingly positive." Wagner, who is a survivor herself, says she was "emotional, humble, and proud" when she learned that this year's charity would be Susan G. Komen. "I am so very grateful and honored to be part of an organization that is giving to help others in the fight against breast cancer," she continued. Wagner represented The Medicus Firm, along with president Jim Stone, in presenting the donation check to Hilda Avila, marketing and events manager of Susan G. Komen, Dallas County.
Hilda Avila (center) accepts the donation check from Jim Stone and Lisa Wagner of The Medicus Firm.[/caption] In previous years, The Medicus Firm has contributed to the Wounded Warrior Project, and Children's Medical Center in Dallas. "We hope that our contribution this year to Susan G. Komen will be matched by other organizations and individuals, to lead to a cure and additional resources. We value the foundation's role in increasing awareness and funding for breast cancer," Stone concluded. Reflecting upon her experience with the disease, as well as her employer's subsequent contribution, Wagner is overwhelmed by emotion. "Being a survivor has changed my life so profoundly and positively that I would go so far to say it is one of the best things that ever happened to me. Upon learning the terrifying news that I had breast cancer... I made the decision to face this challenge head on with strength and determination and adopted an attitude that 'failure is not an option.' I knew if I got a second chance at life, my life would change drastically." Wagner says she no longer takes anything for granted, but makes every effort to live in the moment, to be kinder and more compassionate, and enjoy every sunset. "I tell my family how much I love them. I never assume people know how I feel about them. I simply don't sweat the small stuff and keep smiling and laughing as much as possible," Wagner states. Even if you're unable to make a donation, there are many ways to help those who are impacted by this disease. Wagner said that "just being there" can help immensely. "I have two dear friends I've seen only a handful of times over the past 28 years. When they heard my news, they both called me every day. There were times after surgery I didn't remember talking to them, but they kept calling and sending cards relentlessly. It helped me so much!" The Komen foundation, established in 1982 by Nancy Brinker in Dallas, TX, in honor of her sister Susan, " is the only organization that addresses breast cancer on multiple fronts such as research, community health, global outreach and public policy initiatives in order to make the biggest impact against this disease," according to their website. For information about the foundation or to donate, visit the organization's website at http://ww5.komen.org/.