The Medicus Firm Selected to Join Physician Recruitment Thought-Leaders as ASPR Strategic Corporate Partners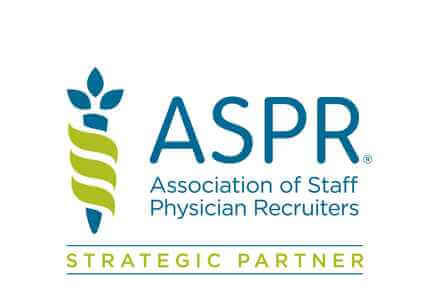 The Medicus Firm (TMF) has been selected to become a Strategic Corporate Partner by the Association of Staff Physician Recruiters (ASPR). "The Medicus Firm has been a vocal and enthusiastic supporter of ASPR, its members and its mission for more than 15 years. Industry stewardship and support of educational programs are part of our DNA and becoming a strategic corporate partner of ASPR is an exciting and logical next step for us," said Jim Stone, TMF President.
"Now in its third year, the Strategic Corporate Partners program has grown to include key players that are working collectively and collaboratively to support ASPR members, physician and provider recruitment professionals," said ASPR executive director Carey Goryl, MSW, CAE. "Every one of our partners wants our members to succeed in their work and for health providers to find the right community for them. The Medicus Firm, joining the current partners, creates a powerful foundation from which our members will grow and in turn, will enable them to improve health in the communities their respective organizations serve."
About The Medicus Firm
Since 2001, The Medicus Firm has been committed to be the physician and advanced practice provider recruitment firm of choice for hospitals, physician groups and healthcare employers nationwide. TMF offers its clients industry-leading models of candidate sourcing, strategic process improvement and physician staffing management. The Medicus Firm has offices in Dallas, TX and Atlanta, GA, is part of the M3 USA group of companies.
About ASPR
Created by a handful of members who envisioned the value of bringing like-minds, doing like-work to develop best practices in physician recruitment, the now nearly 2,000 members of the ASPR represent the most respected, trusted source for information about physician and provider recruitment, onboarding and retention.
About the Strategic Corporate Contributor Program
Launched in 2017, ASPR's strategic partner program fosters strong relationships with corporate support to work alongside ASPR to become the leading voice addressing the challenging and complex nature of physician and provider recruiting, onboarding and retention in a health care sector that is faced with significant physician shortages in the years ahead.
The Strategic Corporate Partnership program provides ASPR the opportunity to engage with companies through a unique, in-depth relationship. This program acknowledges the significant role allied companies can play in furthering the mission of ASPR. This relationship fosters greater communication and collaboration among the organizations, providing a think tank of individuals whose companies ultimately provide products and services to ASPR members.