The Medicus Firm Wins 2020 Best of Staffing for the 8th Year and Receives the Diamond Award for Service Excellence from ClearlyRated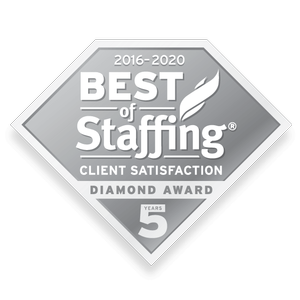 The Medicus Firm announced today that they have won Best of Staffing Client Diamond Award for providing superior service to their clients for at least five consecutive years. Presented in partnership with sponsors, CareerBuilder, Indeed and Glassdoor, ClearlyRated's Best of Staffing® Award winners have proven to be industry leaders in service quality based entirely on ratings provided by their clients.
The Medicus Firm received a Net Promoter® Score of 73.3%, remarkably higher than the industry's average of -2% in 2019. Driving this market leading performance is from 78.4% of their clients scoring satisfaction at 9 or 10 out of 10, significantly higher than the industry's average of 24%. This win marks the 8th year they have received ClearlyRated's Best of Staffing Award for Client Satisfaction.
"Our company is honored to receive the Diamond Award, as it represents our hard work for our clients in the past year, and our consistency to deliver industry leading service the last five years," says The Medicus Firm's CEO Steve Look. "This is only possible by having a culture that attracts, engages and retains some of the most experienced healthcare talent for our clients," Look continues.
About The Medicus Firm
The Medicus Firm is a national physician search company founded in 2001 to serve health systems with clinical, research, faculty, and physician leadership roles. The goal of The Medicus Firm is to help healthcare employers grow their physician staff, advanced practice team, and patient services. As part of the M3 USA family of companies, The Medicus Firm benefits from M3's technology platform, candidate sourcing sophistication, and international physician reach.
About ClearlyRated
Rooted in satisfaction research for professional service firms, ClearlyRated utilizes a Net Promoter Score survey program to help professional service firms measure their service experience, build online reputation, and differentiate on service quality. Learn more at https://www.clearlyrated.com/solutions/.
About Best of Staffing
ClearlyRated's Best of Staffing® Award is the only award in the U.S. and Canada that recognizes staffing agencies that have proven superior service quality based entirely on ratings provided by their clients and job candidates. Award winners are showcased by city and area of expertise on ClearlyRated.com – an online business directory that helps buyers of professional services find service leaders and vet prospective firms – based exclusively on validated client and talent ratings and testimonials.