TMF Awards Top Associates at Annual Kick-Off Gala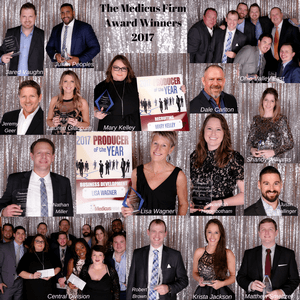 Healthcare Recruiters, Business Development, and Operations Associates Recognized for Top Performance in 2017
The Medicus Firm, a national recruiting firm specializing in permanent placement of physicians and advanced practice providers, recently held its annual Kick-off Gala in Dallas, Texas at the Hilton DFW Lakes Executive Conference Center, to review the previous year and recognize top performers, as well as set the stage for the coming year.
"The Medicus Firm's annual kick-off banquet is a fun, semi-formal event where we can personally acknowledge our employees for their many accomplishments throughout the year. We honor top performers, as well as associates who have made the most positive impact at TMF, by exemplifying our Core Values," states Megan Williams, Director of Employee Engagement. "We would like to congratulate all of our employees and award recipients on a wonderful 2017. We appreciate the team's commitment to TMF's values, mission, and goals. It's our incredibly talented, driven team of associates that makes TMF one of the best places to work in the healthcare industry, and a top employer in the states of Texas and Georgia," Williams concludes.
Below are the award winners who were recognized for their 2017 performance and contributions to the company at the event Friday, January 26, 2018.
Jared Vaughn - Innovation Award - Awarded to an employee who came up with an idea and implemented it to better the business.
Lisa Wagner - BD Top Producer of the Year Award
Mary Kelley - Recruiter of the Year Award
Robert Brown - The Referral Award - Awarded to the recruiter who has the most placement referrals in the preceding year.
Savannah Higginbotham - Service Excellence Award - Most consistent, annual excellence for non-production staff.
Krista Jackson - Outstanding Operations Award - Operations professional who went the most above and beyond in the preceding year.
Jeremy Geer - Client Satisfaction Award - Highest average Net Promoter score for the year.
Dale Carlton - Core Value: Continuous Improvement Award - Environment of consistent learning opportunities to gain knowledge, skills and mastery of our business and industry by placing value on preparation, competencies, experiences, and outcomes.
Justin Ballinger - Core Value: Commitment Award - Being sincere, steadfast, and bound to our company, our employees, our clients, and our goals by taking personal accountability for our actions toward each one.
Lauren Glaccum - Core Value: Extra Mile Award - A fervent, caring, and voluntary enthusiasm to exceed expectations by going above and beyond the call and doing more than required.
Matthew Smeltzer - Core Value: Trust Award - Firm confidence in and reliance upon the integrity, ability and character of another person in which one's confidence, devotion, commitment, respect and honor is place.
Rising Star Award - Highest potential, quickest contributing, most likely future baller in the making.
JP Peoples
Shandy Williams
Nathan Miller - Difference Maker Award - Given to the person who we feel, made the biggest difference to the growth and development of TMF in general.
Regional Excellence Award - Region with the highest percent above goal and balance of at least 20% in every bucket.
Ohio Valley East
Justin Ballinger
Harold Livingston
Kyle O'Connor
Robert Brown
David Kirschner
Thomas Carlile
Jeff Molnar
Jared Vaughn
Division of the Year Award - Awarded to the highest-producing division based solely on gross revenue.
Central Division
Nathan Miller
Evan Reece
Mary Kelley
Brandon Trice
Shandy Williams
Holly Lewis
Kim Bredde
Michael Messier
JP Peoples
Brian Couturier
Dale Carlton
Jeremy Geer
Arnetria Coleman
Jacob Simon
The above associates are truly the best of the best in the physician recruiting industry. The Medicus Firm is an award-winning firm, receiving multiple honors and awards, including Best of Staffing, Best Places to Work in Healthcare, and Forbes' Top Professional Recruiting Firms of 2017. Therefore, to be a part of The Medicus Firm is to be among the very best! Congratulations to all of the award winners and the entire team at The Medicus Firm for another great year!
Learn more: