TMF Donates to Make-A-Wish Foundation on Behalf of Clients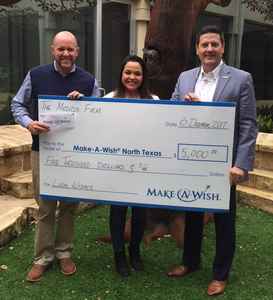 The Medicus Firm donated $5,000 to the North Texas chapter of Make-A-Wish® Foundation, which grants wishes of children diagnosed with a life-threatening illness. According to the foundation's website, a child's wish is granted every 38 minutes somewhere in the United States by the Make-a-Wish organization.
Each year for the holidays, The Medicus Firm donates money to a charity on behalf of the firm's healthcare clients across the country. "In lieu of holiday gifts to our valued clients, we donate to a charity in honor of hospitals and healthcare systems nationwide who work with us throughout the year," states Steve Marsh, managing partner of The Medicus Firm. "We sincerely hope that the donation can make a memorable and meaningful impact on the lives of children dealing with a serious illness," he adds.
Associates of The Medicus Firm vote on a list of charities nominated by their peers, to determine which cause will receive the donation for the current holiday season. Marjorie Mosbey, recruiting consultant, nominated Make-a-Wish, which won the vote, over about ten other charities that were nominated. "I nominated Make-a-Wish because I truly believe in miracles - they cure us. To see a child suffering from a life-threatening medical condition is heartbreaking. To live out a dream is everything to a sick child."
On December 6, 2017, Steve Marsh and Marjorie Mosbey presented the donation check to Scotty Landry, president and CEO of the North Texas chapter of Make-a-Wish.
Learn more: