TMF Donates to Shriners Hospitals for Children for Annual Holiday Charity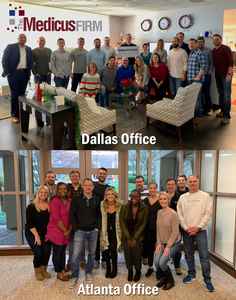 This year The Medicus Firm, a national physician recruitment firm, continues its tradition of donating to a charity on behalf of its clients. Each year, charities are nominated and voted upon by TMF associates nationwide. For 2019, TMF associates selected Shriners Hospitals for Children.
Shriners Hospitals for Children is changing lives every day through innovative pediatric specialty care, world-class research, and outstanding medical education. Their mission is to provide the highest quality care to children with neuromusculoskeletal conditions, burn injuries, and other special healthcare needs within a compassionate, family-centered and collaborative environment.
The Medicus Firm's clients include hundreds of hospitals and health systems across the country. "The money we would have spent on small tokens of appreciation for clients is put to much better use by supporting organizations like Shriners Hospitals for Children," said Steve Look, CEO of The Medicus Firm. "Their pediatric care teams are led by some of the most innovative doctors in the world. They are providing advanced care and complex procedures in a loving, supportive environment. We are happy to be able to help them improve the lives of children and families."
Shriners Hospitals for Children was nominated because of the impact they have had on the family of a TMF associate who's sibling was diagnosed with a rare bone disease. Shriners Hospitals for Children performed surgeries, provided medical equipment, and covered thousands of dollars in additional costs at no cost to the family. Services like these are only possible through charitable contributions.
In addition to this annual donation selection, The Medicus Firm gives back to their local communities with ongoing philanthropic activities. Throughout the year, TMF associates volunteer to serve with and raise money for charitable causes. This year the Dallas office has volunteered at various organizations including Brady Senior Services Center and ChildCare Group. The Atlanta office has volunteered at organizations including Georgia SPCA and Children's Healthcare of Atlanta (CHOA).