8 Things TMF Retained Recruiters Do that Most Recruiters Don't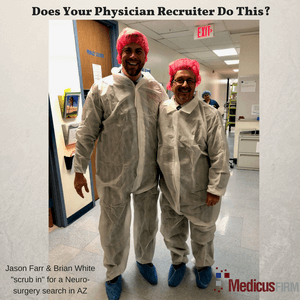 Choosing a recruiter can be an overwhelming process. If you are a staff or in-house physician recruiter at a hospital or health system, you likely receive hundreds of calls weekly from recruiters and firms trying to win your business for physician search.
Of course, we want you to engage with us, because we think we're the best! (And our clients and employees think we're pretty great, too!) We know we can't sign every single healthcare group and system to work with us, but we can try to provide the very best level of retained recruiting services in the industry.
We strongly believe in the type of recruiting services we provide, and specifically in the TMF retained search process, because we feel that retained search is the most effective way to find the best fit for your physician and advanced practice openings. Many healthcare administrators initially feel that contingent recruiting is the best way to go. It seems simple: why pay up front before you get a placement, when you could just pay later, and only after a placement is made?
Here's why: retained recruiters do many things that contingent recruiters don't, won't, or can't do. The search process for a contingent recruiter vs. retained search are two completely different things. That's not to say that contingent recruiting is necessarily a bad thing - it's just different a completely different approach, and not always the best option. As a third party recruiter, if there is no money coming in on the front end of a search to fund resources and time for that specific opening, you have to rely upon fewer resources and provide fewer services to each search. It's just simple economics. With retained search, there are time-intensive, customized resources dedicated to your specific search and individual recruiting plan from the very start of your search.
Here are a few things that retained recruiters do that are included in the TMF retained search process, that (most) contingent recruiters can't or don't do because they don't have access to the resources or time to devote to each individual search:
Limited search load per recruiting consultant. There are only so many searches that any one recruiter can successfully manage. Therefore, our recruiters are not overloaded with searches, and are limited to a geographic area of 1-2 states to increase their expertise and knowledge in a specific recruiting market.
Pre-search research & data analysis. As a national firm owned by a global healthcare tech and media firm, we have access to data and records on thousands of placements, and hundreds of thousands of physicians and advanced practice clinicians. We can utilize prior search info and marketing to help devise the most successful recruiting and marketing plan for your opportunity, based on real results and success with similar searches.
On-site search assessment and evaluation of need.... aka Walk in the Doctor's Shoes. (see photo!) This is where we view the opportunity from the prospective physicians' point-of-view, ask questions, gather information, and more, to use in the screening and interviewing process.
Physician Marketing based on analytics and previous results - we know what works and what doesn't for each of the top specialties. We will share that information with you and create an physician marketing plan that is unmatched in the industry.
EPiC reports - Your EPiC physician opportunity demands an EPiC report. These comprehensive opportunity overviews, or Evaluation of Practice and Community(EPiC) reports, are another feature of our highly customized retained recruiting process that is also extremely candidate-friendly. These visual representation of your opportunity will help physicians to see, with just a click of the mouse, all of the amazing features and benefits your opportunity offers.
Pre-interview presentation & preparation. Each candidate who interviews with you also gets a thorough pre-interview preparation call and presentation specific to the candidate and how your particular opportunity fits the candidate's needs.
Contract negotiation. Our recruiters are experienced and knowledgeable in contract negotation and can help expedite and streamline the contract negotiation process which can stall a search if not properly managed.
Follow up and progress reports. Our recruiters have won multiple client satisfaction awards due to the level of service and thorough communication we provide our clients and candidates. Our new and improved progress reports allow you to check in on the status of your search from any device, any time. Get real-time market feedback and consultative recruiting solutions and process improvement based on identified patterns in candidate behavior and feedback.
Regarding the TMF recruitment process as seen in the adjacent photo: Jason Farr, Senior Vice President of Recruiting, and Brian White, Recruiting Principal, visited a client in Arizona to begin recruitment for a Neurologist and Neurosurgeon. Part of their visit included touring the OR and neurointensivist unit, where they also spent some time "scrubbed in" for surgery, to learn more about the neurosurgery equipment and observe some surgeries. "We learned a great deal of invaluable information about the client, and really felt like we 'walked in the physicians' shoes' which really helps us when presenting the opportunity to prospective physicians and painting a vivid picture of the opportunity," states Farr.