RVUs, KPIs, and Physician Contracts - Compensation Trends for Healthcare Employers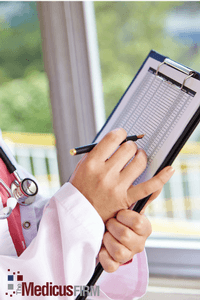 Do physicians prefer a set salary, or performance based compensation plans?
This is the question posed by a recent survey from the AMA, and discussed in a recent article from Decision Health.
With an ever-increasing proportion of today's physician workforce now being employed, rather than working independently as partners or owners of a private practice, developing a competitive physician compensation structure in physician employment contracts is a growing challenge and important piece of the staffing puzzle for administrators of hospitals and health systems that employ physicians.
According to the article in Decision Health, The American Medical Association (AMA) recently conducted a survey to determine physicians' desires about their compensation structure, as well as how their income is actually structured by their employer(s). The survey found that about half of physicians are receiving some income, at least in part, as a set salary. Additionally, nearly a third of physicians are paid partly based on some type of personal production incentive, which is where RVUs come into play.
Decision Health took a closer look at the trends surrounding physician compensation structures, including the physician survey findings from the AMA, which found that as many as one-fifth of so-called "salaried" employed physicians actually receive more than half of their compensation based on productivity, which the AMA finds to be "striking".
The article also includes input from a recruiting executive of The Medicus Firm. Based on his conversations with providers,
"I'd say at least 80% of doctors on the market want an employed opportunity," says Jason Farr, senior vice president for the southern division at The Medicus Firm, a physician recruitment firm headquartered in Dallas.
"But employers continue to craft packages with RVU targets — usually based on benchmarks established by the Medical Group Management Association (MGMA), the American Medical Group Association (AMGA) or other industry organizations — for which physicians who meet them are paid over and above their salaries," the author, Roy Edroso adds.
To learn more about the AMA findings and compensation trends, read the full article at Decision Health, for details as to how KPIs and RVUs factor into physician compensation, as well as additional insight from Jason Farr of The Medicus Firm. (subscription required)
More: