Types of Physician Recruiting Firms - How to Select the Best Firm for Your Healthcare Staffing Needs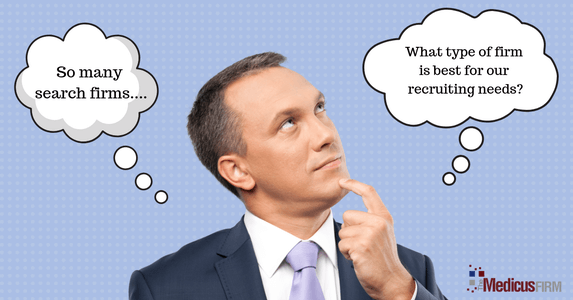 Not all physician search firms are created equally. There are many different structures and components of various physician recruiting firms, and each type has its place for various needs and levels of physician recruiting services needed. Many hospitals and healthcare systems engage several physician recruiting firms and staffing resources to help keep their needs filled, due to the high volume of physician openings in many systems. Below are a few options and types of companies you may come across as you evaluate different physician recruiting firms to determine which is best to meet the staffing needs of your hospital or group.
Contingent Recruiting Firms - Contingent firms are appealing to many employers because of their fee structure - no money is paid to a contingent firm until or unless a physician is placed - hence the term, "contingent". Employers like that fact that this is a safe option with low to no financial risk or cash outlay up front. While this seems ideal, and this structure can work well for some systems, there are some drawbacks. Since all of the money is paid at the end of the search, and there is no upfront investment to help fund search activities and resources, the fee structure requires contingent recruiters to work a very high volume of searches. They also are forced to work "closest to the money," (or wherever they are most likely to make placements), because they don't get paid until they make a placement. Therefore, hospitals with the toughest searches, or those which are not in a highly popular or desirable location may experience challenges working with a contingent model. Contingent firms are successful in many cases, but it depends on your search needs. Again, many systems may use contingent firms in combination with other types of firms for optimum success.
Retained Search Firms - The model utilized at The Medicus Firm most closely resembles retained search. Retained recruiting consultants such as TMF's are retained in the same manner as an attorney or CPA - once you retain a search firm, they are working for you in a very dedicated way, almost as an extension of your inhouse team, ideally. Retained search firms tend to be more full-service, often offering a variety of customized resources designed just for your search, such as candidate sourcing and marketing plans, opportunity overviews, and more. There are many different models within the retained search arena - some firms' agreements are based per search, and some are based per client or system. The Medicus Firm's model is designed by industry veterans specifically to accomodate multiple searches within a simplified agreement. It was designed with the intention of protecting clients from excessive financial exposure, so that larger systems don't lose an exorbitant amount of money on any unfilled searches.
"No Placement Fees" - If a company says they offer no placement fees, it's because they don't place physicians for you. In this instance, charging a placement fee would be like The Home Depot charging you labor costs to build your deck, even though you built it yourself with materials purchased from the store. Often these companies advertising "No Placement Fees" are lead generation companies, or physician marketing firms, which are great resources, but they are not recruiting firms with a team of recruiters who fill searches and manage the search process from start to finish. These types of candidate marketing or lead generation firms can be excellent resources for an inhouse physician recruiting team. Some employers may work with a lead gen/marketing firm in addition to a recruiting firm. If you engage with these resources in place of a full-service recruiting firm, it's probably best if you have a solid, strong inhouse team in place, as your inhouse team will still do much of the work, manage the majority of the recruiting process and tasks, and conduct most of the heavy lifting along the way.
Choosing the Best Firm for Your Specific Physician Recruiting Needs
How can you choose the best type of physician recruiting firm for your staffing needs?
Here are a few factors to help you choose the best recruiting firm to meet your staffing needs:
References, reviews, & referrals - What are people saying about search firms in your region? Network with other healthcare executives through professional associations or your personal network to learn more about the firm(s) that have been successful in your area or with similar types of practice settings and communities.
Rankings and awards - Has the company won any awards or rankings in the healthcare staffing industry? This can help you identify a firm's strengths as well.
Interview several firms - schedule a free consultation to meet with a representative to discuss potential strategies for your recruiting needs. In some cases you may even be able to meet the recruiting consultant who would actually be assisting you with your search.
Resources available / service provided - What are some of the resources that will be made available to you as a client? These can include everything from the personal service level to technological resources. How experienced is the recruiting team that will be working on your search(es)? Will you have access to search progress reports? How will the recruiting firm represent your opportunity to candidates and how will they market your search? Are candidate marketing and sourcing campaigns provided, and if so, what data is available to you as the client along the way? Does the firm also have a substantial internal database of candidates from which to source in addition to external sourcing and passive candidate targeting?
Industry expertise - What is the history of the firm, and how long has the firm been in business? How tenured is the recruiting team? Are they seen as experts in the industry? If they have a solid media presence, that may also indicate a level of expertise and tenure in the industry as a healthcare staffing thought leader.