Value Based Pay for Physicians - How Much is it Really Being Utilized?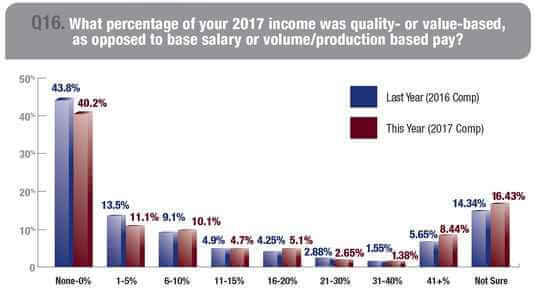 What is value-based pay, and how is it being incorporated in physician compensation plans?
According to the AAFP, value-based pay, or VBP, is "a concept by which purchasers of health care (government, employers, and consumers) and payers (public and private) hold the health care delivery system at large (physicians and other providers, hospitals, etc.) accountable for both quality and cost of care."
Last year, 14% of physicians responding to The Medicus Firm's annual physician practice survey in 2017 stated that they are "not sure" how much, if any, of their 2016 compensation was value-based (as opposed to a flat salary, or volume/production bonus, etc.) The uncertainty grew to 16.4% of physicians in 2018, who indicated that they don't know how much, if any, of their (2017) pay is value-based.
In the most recent TMF physician practice survey, (May 2018), 40% of the 2,219 particpating physicians stated that none of their pay is value-based, compared to 43.8% the previous year. The survey results seem to suggest that there has been little to no growth in the implementation rate of value-based pay among the physician workforce over the past year.
Additionally, 21% of physicians stated that 10% or less of their compensation is value-based, (compared to 22.6% last year). Only 8.4% of physicians indicated that more than 40% of their pay is value-based, compared to 5.6% last year. Thirteen percent said they have a value-based pay component that falls somewhere between 11% and 40% of their total pay structure.
According to Modern Healthcare, citing a survey from Leavitt Partners, only 22% of 600+ surveyed physicians agree that ACOs and other value-based plans would help to lower healthcare costs. However, the author of the survey notes that the lack of confidence in value-based plans could also be due to the lack of direct experience with the plans.
A joint study by Humana and the AAFP in late 2017, as referenced in Fierce Healthcare, found that physicians were starting to warm up to the idea of value-based pay, as compared to an earlier study in 2015, but there was still a long way to go to get physicians on board with the concept.
More: