7 Ways to Set Up 2019 for Physician Recruiting Success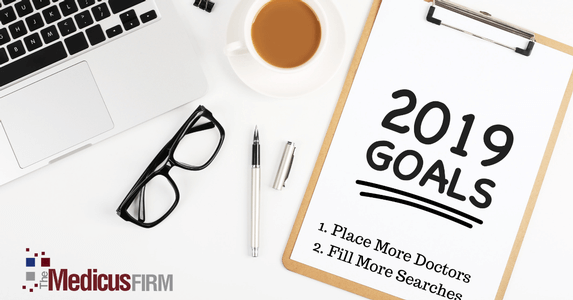 Physician Recruiting Checklist for the New Year
Starting the new year is always a great time to press the "reset" button for a fresh start on all goals and objectives for the coming months, including physician recruiting initiatives for your health system, hospital, or medical group.
If you are a staff or inhouse recruiter, or a healthcare administrator responsible for overseeing physician recruitment efforts, how can you ensure that your physician search processes and department are as effective and efficient as possible for 2019?
Here are a few helpful tips and reminders from the TMF recruiting team, including several who have previously worked as inhouse staff physician recruiters, in addition to their experience consulting with TMF clients regarding their recruitment efforts. By fine tuning these aspects of your physician recruiting department, you can maximize your success and increase your rate of physician placements and completed searches.
1.) Review and assess community and system need for physicians and providers – staff planning. Review your staff plan carefully and be sure that your strategic recruiting plan for 2019 and beyond is in line with the findings of the provider needs assessment for your system and community. Consider any recent fluctuations in population, including increases or decreases in patient volume, and any changes to the patient mix of demographics in your draw area. Also be sure to consider changes in the local competition and providers who have been newly added or retired from your community or draw area. Review your health system's plans for new service lines in coming years as well as any other system initiatives that may impact recruiting and hiring.
2.) Review your inhouse physician recruiting team members. Which staff members are involved in physician recruiting activities? This includes marketing, sourcing, interviewing, administrative assistance, contracting, credentialing, etc. Are all staff members properly trained and utilized for the role they play in physician recruiting? Are there any team members who are overloaded, under-utilized, or who need assistance or additional resources to more efficiently and effectively complete their duties related to physician recruitment? If you employ an inhouse recruitment team, have they met their recruiting goals? Are they motivated and compensated appropriately for their contributions to the system? If you have a solid inhouse recruiting team, be sure to keep them engaged and motivated with feedback, incentives, and the necessary resources.
3.) Review general recruiting processes and policies. Closely evaluate each step of your internal physician recruiting process, from opening a search, throughout physician onboarding. Which parts of the process work the most smoothly, and which processes need improvement? Where are the delays, break-downs, and bottlenecks, if any? For example, if you are interviewing a lot of candidates, but not filling searches, perhaps there is an issue with the contract – it may simply be taking too long to get the contract to the physician, which is something that may be easily resolved. Or, you may need to improve your physician interview experience. Review any patterns or trends in your recruiting processes and procedures that may indicate that the process is broken or there is an unnecessary delay that is hindering the success of your search(es).
4.) Compensation packages and incentives. As referenced above, if you are failing to sign physicians despite a fair amount of interview activity, your compensation package and offer may need some review. Look at what your competitors are offering, and listen to what your candidates are telling you. Candidates who decline your opportunity can be valuable sources of information. Also, review salary surveys and reports in addition to gathering real-time offer info from the area. Don't forget to review your recruiting incentives too – these can make your offer stand out from the competition and increase your placement success rate.
5.) Assess open searches. In addition to reviewing last year's completed searches to see what worked and what could be improved, be sure to review any open searches that are carrying into the new year. If a search has been open for an extended period of time, you may need to re-adjust the process, offer, or recruiting methods to improve your success rate. (Consider the search specialty and your location - some specialties take longer than others to fill, based on available candidate pool, demand, and other factors, some of which are beyond your control.)
6.) Third party vendors and resources. What external resources do you utilize for your physician recruitment needs? This includes physician search firms, physician marketing companies, job boards, conferences/career fairs attended, candidate lists, and any other services or products that use valuable budget dollars. Are you achieving the intended and expected return on your investment for these products and services? Contact vendors that are falling short and devise a plan to improve for 2019. You may also need to consider trying new products and services if the existing ones are not producing the necessary results, such as candidate leads and inquiries, interview activity, and filled searches.
7.) In-house resources. What internal resources are you leveraging to advance your physician recruiting efforts? Are there other staff members or internal departments who could be assisting with various steps of the recruiting process? This may include your hospital marketing department, HR, communications professionals, internal database, hospital community outreach, or executive team.
Contingency Plans are a Must - Always Have a Back-Up Plan
As you evaluate each of the above, don't forget about contingency plans – what do you do if you simply cannot fill a needed role in the time allotted or required? Ideally you will fill all of your searches in a timely fashion, but the reality is that may not happen, due to simple supply and demand – there are more open jobs than there are physicians to fill them, in most cases.
Do you have locum tenens or other staffing services ready to engage as needed?
Do you need to adjust some of your searches or recruiting goals?
Could you recruit more advanced practice clinicians who could help care for some of the patient load?
Does your system utilize telemedicine services to make medical care more available in a shortage of local physicians?
Don't forget to consider any and all back-up plans and contingent resources to ensure that the health system's needs and patient care demand are covered in case of a prolonged search process.
Bonus / Pro Tip:
Emily Glaccum, principle recruiter for The Medicus Firm, advises utilizing your professional network of other inhouse physician recruiters to help troubleshoot and brainstorm for any tough searches or staffing issues. As a former inhouse staff physician recruiter for a Georgia health system, Ms. Glaccum understands the challenges that staff physician recruiters face regularly, and she found her network to be invaluable in helping with problem solving and staffing solutions. "Most national professional associations have state and regional chapters with message boards and online networks, and/or networking groups on LinkedIn and Facebook, that helped me to connect with other physician recruiters facing similar challenges to discuss potential solutions that have worked for others in difficult recruiting situations," Glaccum states. She referenced ASPR, Cass' Network, and state hospital associations as examples of a few great networks especially created for inhouse physician recruiters.
"A goal without a plan is just a wish." – Larry Elder
More: