The Medicus Firm Named Among Forbes' Best Professional Recruiting Firms for 2018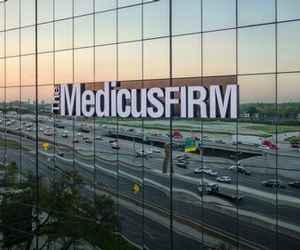 Dallas, TX - April 9, 2018 - The Medicus Firm, a national retained search firm specializing in permanent physician search and advanced practice placement since 2001, was recognized by Forbes as one of the Best Professional Recruiting Firms of 2018. This is the second consecutive year that The Medicus Firm has been named on the Forbes list of top search firms in the country.
The list of rankings, created by Forbes in cooperation with Statista, is based on research and surveys of more than 4,500 candidates and HR managers who have worked with recruitment firms within the past three years, and more than 30,000 external recruiters were surveyed as experts to share their market insights. The Medicus Firm ranked #87 out of 250 top firms which made the list which ranks recruiting firms from all industries including executive, IT, and healthcare recruiting.
Candidates and HR managers were asked to name recruiting firms they've worked with and rank them on a scale from 1 ("poor") to 6 ("excellent") in several different aspects including:
Quality and selection of offered positions
Quality of process (reliability, clarity, timeliness)
Quality of communication
Additionally, HR managers were asked to rate the nominated firms in the following areas:
Quality and selection of offered candidates and their fit within unique environments
Quality of process and communication e.g. responsiveness, purposeful, keeping commitments etc.
Understanding unique company cultures
Price-performance ratio for services offered
External recruiters were asked to recommend recruiting firms based on the case that they would not be able to provide a service or industry focus themselves. There were more than 14,500 nominations of recruiting firms received from more than 6,500 respondents. The ranking is comprised exclusively of recruiting firms that have a sufficient number of nominations.The 250 best recruiting firms were ranked based on the score from Statista's elaborate scoring algorithm that included the volume of nominations and recommendations, as well as the assessment in the various evaluation areas across the groups of participants.
"We are very honored to be included on the Forbes list of Best Professional Recruiting Firms for the second consecutive year," states Jim Stone, president of The Medicus Firm. "This recognition confirms that employers and professionals recognize The Medicus Firm as a leader in the recruiting industry. We are thankful that our hard work and efforts to provide the best physician search services and continuous improvement since 2001 are appreciated by healthcare employers and professionals nationwide." Stone adds that the tremendous technological and financial resources of parent company M3 USA have enabled The Medicus Firm to offer recruiting services that include unrivaled recruiting experience and expertise along with advanced technology and access to analytical data unlike any other firm. M3, Inc. has also been recognized by Forbes as a Most Innovative Growth Company.
"This has been a very exciting year for us so far," Stone adds. "In the first quarter of 2018, we launched our new Physician Leadership division devoted to executive physician search, achieved "Best of Staffing" for the third consecutive year and sixth time overall, while obtaining many production goals for the quarter as well. This Forbes recognition is a great way to start off the second quarter and keep the momentum going throughout the first half of the year and beyond. We look forward to helping many more healthcare employers and professionals achieve their hiring needs and career goals in 2018," Stone concludes.
More: