Top Physician Specialties in Greatest Hiring Demand for 2019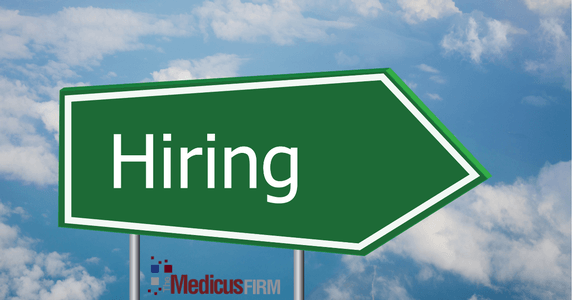 Recruiters Predict Physician Hiring Trends, Greatest Demand by Specialty for 2019
December was one of the largest healthcare hiring months since 1990, according to Modern Healthcare. This represents a 56% increase in hiring from the previous month (November), according to the Bureau of Labor Statistics' jobs report for the December 2018.
According to the BLS, about 75% of the new jobs added in December were in ambulatory healthcare, with the addition of more than 37,000 jobs in outpatient settings, including home health, and medical offices, which saw some of the greatest gains.
With healthcare hiring at a faster rate than ever, competition for top clinical talent will be intense in 2019, especially for the physician specialties that are expected to be in greatest demand.
What Medical Specialties Will Be in Greatest Demand in 2019?
According to a recent article published in PracticeLink magazine, the most in-demand specialties are Neurology, Urology, and Psychiatry, respectively. This is based on an analysis of the open opportunities posted on their site.
Many of the recruiting consultants at The Medicus Firm, a national physician search firm, agree with this assessment in general.
Although he agreed with many of the top-ranked specialties on PracticeLink's list, Jason Farr, senior vice president of recruiting at The Medicus Firm, was surprised to see that Anesthesiology ranked 4th among most in-demand specialties for PracticeLink. "We've not seen a great deal of growth in demand for this specialty, but it may be in store for 2019 as these posted positions go unfilled, and systems come to our team for recruiting services," Farr explained.
Kathy Bowers, senior recruiting consultant, says her team is seeing a significant influx of urology searches. She said that one challenging dynamic for Urology searches is that newer physicians coming out of training often strongly desire to work at a facility that has robotic surgery equipment, but often only large metropolitan health centers have robots, which are typically out of the budget range for small rural hospitals. This adds a level of difficulty to recruitment of urologists to rural and smaller communities.
Rounding out the top five most in-demand specialties in the PracticeLink analysis was gastroenterology.
In comparison, The Medicus Firm's Top 10 most frequently placed specialties last year, according to the 2018 Physician Placement Report, were:
Family Medicine
Internal Medicine
Hospitalist
Gastroenterology
Pediatrics
Nurse Practitioner
OB/Gyn
General Surgery
Psychiatry
Physician Assistant
All of the above most-frequently-placed specialists at TMF, except PAs and NPs, were also ranked by PracticeLink magazine among the top 15 most in-demand specialties going into 2019.
More: